So I wasn't going to get a diaper bag because I am a huge fan of large purses so I just planed on using one of them and getting an organizer for the inside. Well I was at TJ Maxx and found this awesome huge purse. But it is supposed to be a laptop/work bag. And it was only 20 bucks(can you say steal!!) Also in the inside of the purse there was a laptop case which was fully padded along with the purse being padded. When I got my Canon Rebel I never bought a case for it because I always wanted to make one of my own! Well when I found this I was thrilled! I haven't had too much practice on my sewing machine that I got for Christmas so don't judge that my sewing isn't the best because it really isn't lol. It will get better as time goes on (or at least I hope) The machine is also an embroidery machine and I really want to start using all that
!!
Isn't is beautiful even has bottle holders on the side!!
The padded laptop case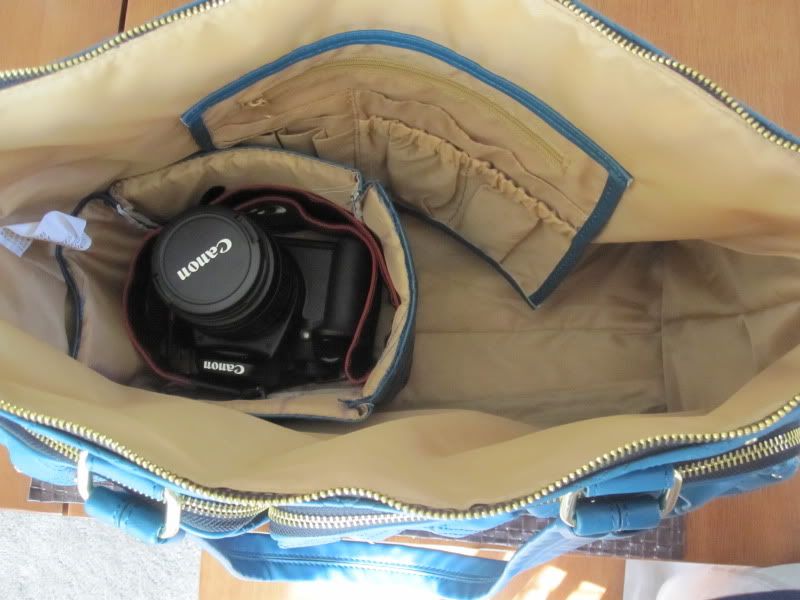 I wanted to actually sew in the camera holder but I would lose that pocket so I decided to make it something I could take in and out and put it other purses which I actually like better!!
Again please don't judge lol, especially since I only had white thread and I was soo excited to just do it so I did. But it is all super padded and the bottom has 2 layers of foam and a thick piece of cardboard from a 5 subject notebook. I am pretty impressed with it and it works so well!!


Hope you guys like it. I know that camera will be getting so much use when Vince gets here and now I have a safe CUTE little home for it! And it was such a good deal!! Now I just need to make a longer strap for the sides so I can put it around the stroller!